Description
Planetary Spell Kits
Doc Solomon's has always specialized in rare and obscure items for ritual observance and spellwork. However, we understand not everyone has the years of training necessary to know how to combine these items and perform the invocations to call the spirits and achieve your goals. Even if you do, it would be rather expensive to purchase all the individual ingredients to combine for your spell, and even more expensive to hire someone to do the work for you. Wouldn't it be nice if you could get, in a single package, exactly what you need, only as much as you need, and for it to come with simple instructions for the needed spell?
Introducing Doc Solomon's Planetary Spell Kits!
Price: $38.95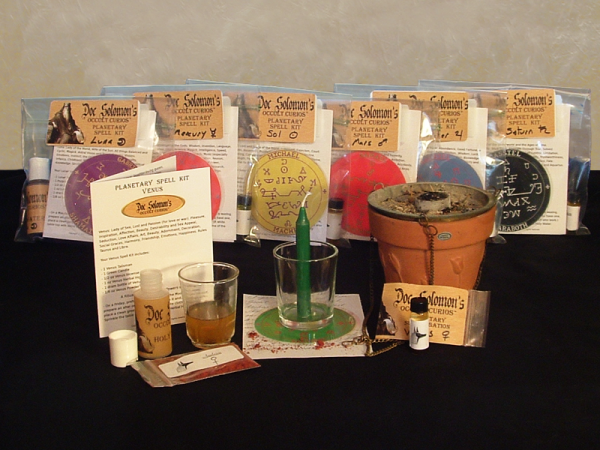 Each Kit comes with everything you need to perform a powerful spell for any purpose. Draw fortune, luck, love, money, and more to you, or send negative things away. Your Planetary Spell Kit includes:
– 1 Planetary Talisman
– 1 Colored Candle
– 1/2 oz Planetary Incense
– 1 oz Herbal Holy Water
– 1 dram bottle of Planetary Oil
– 1/8 oz Planetary Powder
– Complete Spell Instructions
As always, every item in the Kit has been consecrated, blessed, or charged just as if they were being sold individually. That means everything is already powered and ready to go – you only need to set it up and cast the spell!
Now you can get all seven kits for the price of six – a 10% discount!
Just use code 'all7kits' at checkout.
Saturn Kit


The Underworld and Time. Responsibility, Work Ethic, Strength Through Trial, Solved Problems, Discipline, Diligence, Patience, Steadfastness, Integrity, Destiny, Fate. Similar to the Element of Earth. Rules, Capricornus and Aquarius.

Jupiter Kit


Benevolence and Wisdom. Abundance, Good Fortune, Joy, Honor, Good Faith, Luck, Happiness, Wealth, High Position, Honesty, Philosophy, Success, Feasts and Festivals, Blessings. Rules Sagittarius and Pisces.

Mars Kit


War and the Underworld. Tyranny and Totalitarianism. Famine and Plague. Passion and Severity, Aggression, Competition, Ambition, Courage, Strength, Endurance, Strife, Tension, Anger, Accidents, Destruction, Earthquakes, Violence. Similar to Fire. Rules Aries and Scorpius.

Solar Kit


Lord and Judge of the World, Exorcism, Court Cases, Ascension, Purification, Initiation, Healing, Compassion, Majesty, Growth, Life-Force, the Divine,, Wisdom, Rulership, Friendship, Happiness. Similar to the Element of Spirit. Rules Leo.

Venus Kit


Sex, Lust and Passion (for love or war). Pleasure, Inspiration, Affection, Beauty, Desirability and Sex Appeal, Seduction, Love Affairs, Art, Beauty, Adornment, Decoration, Social Graces, Harmony, Emotions, Happiness. Rules Taurus and Libra.

Mercury Kit


Wisdom, Invention, Language, Communication, Logic, Science, Magick, Intelligence, Speed, Agility, Skill, Dexterity, Cleverness, Speech, Music (especially writing it), Math, Astronomy, Cunning, Perception, Reason, Memory, Writing, Ceremony, Words of Power, Divination, Travel, Transportation, Education and Research, Thieves, Business. Similar to Air. Rules Gemini and Virgo.

Lunar Kit


Balanced cyclics. Magick. Astral Vision and Travel. Dreams, Visions, Emotions, Instinct, the Unconscious, Intuition, Infancy, Childhood, Motherhood, Memory and the Past, Spiritual Knowledge. Similar to Water. Rules Cancer.

Contact us for the current status of any out of stock items.