Personalized Services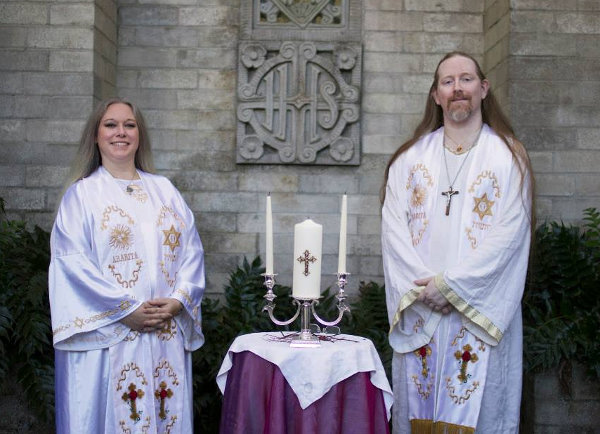 Live Tarot Readings – by Carrie (or Aaron)

Carrie Leitch has studied several esoteric traditions over the last twenty-five years. She is trained in traditional Golden Dawn and Rosicrucian symbolism and Tarot interpretation, able to use a variety of decks to focus on your specific questions. She will also consult ancestral and patron spirits if they have messages to convey. Her combined occult knowledge and intuition enable her to perform unique, highly accurate readings that help you see the hazards and potentials that you may be facing. Sessions can be done by video or voice-only (your choice) using Messenger or Zoom platforms. Click Here for more info or to set an appointment.

(If Carrie is unavailable, or if he is requested, Fr. Aaron will be happy to fill in, giving answers from the Archangels and spirits.)
Archangel Candle Lighting Service


Candle-lighting rituals are an age-old, and still popular, custom to invoke the blessings of Deities, Saints, and Archangels into our lives. A simple and inexpensive service: A candle is inscribed with the client's name and then "dressed" with holy oil and herbs. It is then lit and offered upon a sacred altar with invocations to the Archangel (taken from the Heptameron), and then the client's petition for divine aid, healing, commemoration of those who have passed, etc. Afterward, we can also draw three Tarot cards to divine the effectiveness of the offering ritual and/or any message the Archangel might have in response.

In our home, we maintain altars to the seven Planetary Archangels: Cassiel (Saturn), Sachiel (Jupiter), Samael (Mars), Michael (Sol), Anael (Venus), Raphael (Mercury), and Gabriel (Luna). We decide which planetary force is best suited for your situation, and perform the ritual directly at the corresponding Archangel's altar, on the day and hour sacred to its Planet.

We offer two options: We can perform the ritual and petition, and then draw three Tarot cards to divine any message(s) the Archangel may have for you. ($35) OR, if you just want the blessings without a reading, we can perform the same ritual without the Tarot at a discounted cost. ($25)

Contact Us to schedule your candle offering ritual.
Prayer and Candle Lighting During Mass


The Ecclesia Beatae Mariae Angelorum is now offering prayer and healing for absolutely anyone during our masses. Previously, we have invited members of the church to make prayer requests for the living and/or the dearly departed, which were then read aloud during the mass.

Now, the names and requests submitted to us are recorded in a dedicated journal, which will sit on the altar during the mass and be read aloud as part of the service. We will also place a small light upon the altar to represent your prayer. After that, the names/requests will remain in the journal, which will sit on the mass altar to receive even further blessing every time a mass is given. And yes we will say prayers and blessings for any loved one – even if they have more than two legs, fur, feathers or scales.

There is no set price for this service. A donation of your choosing will always be appreciated. Donations can be made via PayPal at paypal.me/DocSolomons. If you donate, PLEASE remember to include a private note with the name(s) and information for your prayer request!
Consecration Services
Consecration by Mass

In keeping with old traditions, sacred objects of any sort may be Consecrated by Mass: They should be on the altar or within convenient reach of it, and the Priest should exorcise and consecrate them by water and fire during the service. Traditionally this is done with Rosaries, religious medals, prayer books etc.

Items submitted to Ecclesia Beatae Mariae Angelorum for Consecration by Mass will be subject to a fee for return postage (or enclose pre-paid postage with your item). We do not set a price for the service itself, although a donation of your choosing will always be appreciated. Contact us for details.
Consecration via Key of Solomon

The Key of Solomon provides its own method for the consecration of Talismans. This is the same process Father Leitch uses, on the day and hour of Mercury, to bless groups of Talismans for inclusion in Spell Kits, etc. However, your custom Talisman can be individually consecrated via the same method, on its specific day and hour, including a reading of your own Petition over the Talisman at the time of the blessing. The fee for this service is $100 (discounted to $75 if you have ordered a custom talisman). Contact us for details.
Archangel Blessings

As practitioners of the Solomonic Tradition, we share our home with several Patron Archangels – each of whom is fed and cared for after the fashion of the Old Magick.

When we feed one of our Patrons, we will post announcements on the Doc Solomon's Facebook page beforehand. You can have us place your sacred object or talisman on the altar during the feeding, to receive a charge and blessing directly from the angel. The fee for this service is $50 plus return shipping, contact us for details.
Angelic and Spirit Evocation

When necessary, a specific spiritual being – such as an Archangel – can be contacted and petitioned for a specific purpose. The entity will, of course, be asked about your situation – including any questions you provide. We pair this with a talisman (priced separately) that is charged by the spiritual entity. The talisman is then sent to you along with instructions on how to use it. Fees for evocation rituals begin at $700 + (if it applies) your custom talisman.