Description
Deity and Power Oils by Anubeion
Doc Solomon's is proud to announce the addition of magical oils made by Anubeion's Laurie Romano to our catalog! Magical oils are used in a wide variety of traditions for many purposes, limited only by the imagination. Common uses are for anointing, blessing, consecrations, and as augmentation of other magical works such as gris gris, charms, talismans, and in candle magic. These oils can also be used in devotional work with the Gods, to care for Deity and Saints' statues, ritual work, spell casting, evocation, exorcism, hex breaking, divination, hoodoo and conjure, and much more.
Price: $26.49 – $35.49 (4 dram)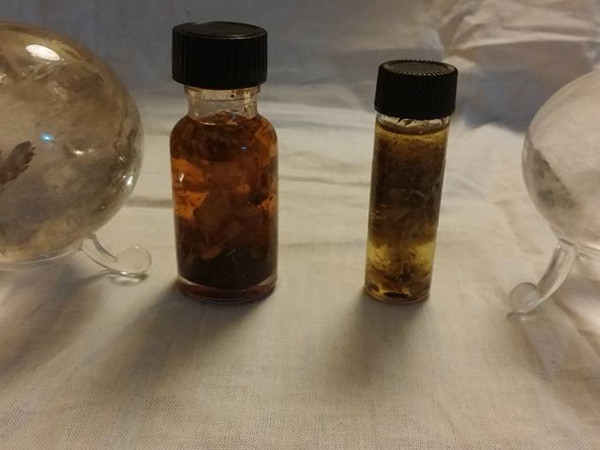 Our Deity and Power Oils are hand made by Anubeion Creations' Laurie Romano. They require magically timed preparation, using ingredients such as herbs, essential oils, and a carrier oil as a base; but can also include other items that suit the purpose of the blend (bones, feathers, miniature dice, glitter, lodestones, etc). Laurie uses the best available essential oils and herbs, sourced locally or from small businesses that use organic growing techniques, and no petroleum based solvents.
Laurie also creates custom oils designed for special purpose use to meet your own specifications. Contact us with your requirements, for information and a price quote.
Deity Oils
Deity Oils require ingredients sacred to the God. Magical Timing, Feast Days, and/or Holy Days associated with the Deity are observed where possible/applicable.

Hekate: Useful in all works devoted to her, consecration of her sacred items, and when her assistance is requested. This is created on a Monday, utilizing wormwood, mullien, crossroads dirt, bay laurel, buchu, wisteria, saffron, honey, and a dab of lily of the valley.
– $28.49

Apollo: Useful in all devotional work, consecration, and when his assistance is desired. Frankincense tears, rue, bay laurel, saffron, wormwood, cinnamon are used to create this oil on a Sunday.
– $28.49

Helios: All devotional works, requests for assistance, and ritual work (one of which is from the PGM) can be facilitated with the use of this oil. Created on a Sunday with copal tears, rue, clary sage, orange, neroli, lotus, saffron, and bay laurel.
– $28.49

Hermes: With works of luck, gambling, success, communications, devotional and ritual work to honor him, this oil reflects the qualities of this god. Sandalwood, cinnamon, rose, saffron, frangipani, honey, and dill are combined to make this oil pleasing to him.
– $28.49

Dr. Jean Montanee: This is used to consecrate and bless his altar, in any magic works or rituals, as an offering/devotional, and when his assistance is requested. Blackwell's Jamaican Black Rum, coffee, shredded coconut or coconut oil, tobacco, rose petals/rose oil, vanilla, and a small sliver of dark chocolate are combined to create this oil.
– $28.49

St. Expedite: This saint is petitioned in works where urgency and expediency is required. Set up his altar in a triangular formation, with a glass of water, a statue or picture, and red or green fixed candle. A prayer that is made to him is available online at st.expedite.org, or from "Voodoo Hoodoo Spellbook" and "Conjuring St. Expedite" both by Denise Alvarado. When he grants your wish, it is imperative to reward him with public thanks, pound cake (Sara Lee), and fresh flowers. I used alkanet flakes, wintergreen, cinnamon, vanilla, and patchouli to create his oil.
– $28.49

Mama Chola: For all workings with this Oya spirit. Contains varying ingredients such as river dirt, dirt from a personal prenda, snake heads/skins, bones, feathers as well as a proprietary blend of essential oils.
– $35.49

Zeus: For all workings with this God of Olympus. Includes (among other ingredients) Dragon's blood, frankincense, patchouli, tobacco, High John the Conqueror, and meteorite.
– $26.49

Loki: For all workings with this Trickster God of Olympus. Includes (among other ingredients) snake skin, cedar, galbanum, elemi, patchouli, and frankincense.
– $26.49

Odin: For all workings with this Norse Deity. Includes (among other ingredients) elemi, patchouli, frankincense, cedar, meteorite, and snake shed.
– $26.49

Mimir: For all workings with this Norse Deity. Includes (among other ingredients) nightshade and juniper berries, galbanum, bay, pine, henbane and hemlock, juniper, and opopanox.
– $26.49

Freya: For all workings with this Norse Goddess. Includes (among other ingredients) monkshood, yarrow, honeysuckle, and tuberose.
– $26.49

Ganesh: For all workings with this Indian Deity of compassion and success. Includes (among other ingredients) hibiscus, bay, frankincense, and heliotrope.
– $26.49

Auset (Isis): For all workings with this Egyptian Goddess. Includes (among other ingredients) myrrh, amber, pomegranate, monkshood, calamus, and tuberose.
– $26.49
Power Oils

Solomonic Power: This is not King Solomon or Wisdom Oil! A Doc Solomon's exclusive, this is Solomonic Power Oil, crafted specifically for the conjuration of spirits, using ingredients known to the authors of the grimoires. This Oil will enhance your qualities of Spiritual Authority, Exorcism, Protection from Evil Spirits, Skrying (Sight), and of course a link to the King himself. Anoint yourself and your ritual candle when performing any Solomonic or conjuring rites, and even use it to seal your ritual room or home against harmful entities.
– $28.49

Uncrossing: When you feel like the only luck you have is the bad kind, you are suffering a "crossed" condition. Uncrossing refers to many methods of reversing your crossed condition. Most uncrossing rituals make use of oil – for anointing yourself, uncrossing candles, etc.
– $26.49

Rose Cross: Used for blessing, anointing, healing, protection, restful sleep, consecration of lamens and crosses as well as ritual, pathworking and meditative work. Rose petals, 3 frankincense tears, copal tears, sandalwood (red), oil of frankincense/sandalwood/rose, and alkanet are mixed to create this beautiful oil.
– $28.49

Road Opener: Use this oil if you traveling, or when you want to open the ways to success, luck, and move out of a position of feeling stuck. Use with candle magic, bottle spells, in combination with other crossroad loa or deity magical works, and with gris gris. Patchouli, bayberry and other ingredients.
– $28.49

Truth Reveal: Used in situations where revelation of one's true nature, intentions, or motives are desired. Can be placed on anything the target will touch on a regular basis or will be in close contact with regularly, such as telephones, computer mouse, desk, chair, door handle, etc. Patchouli, sage, balm of gilead, honeysuckle, and devil's shoestring are used to create this highly effective oil.
– $28.49

Divination: Great for all means of divinatory workings, expanding one's capabilities in vision/sight/clairvoyance. Yarrow, buchu, rosemary, lavender, chamomile, star anise, mugwort, vetivert, clary sage, amber, and gum mastic (if you wish incense) are combined to make this effective tool.
– $28.49

Van Van: Has many uses, such as protection, luck, success, and as an adjunct for just about any work one might wish to do. Can be used for anointing gris gris, candle magic, talismans and amulets as well. Lemongrass, cinnamon, rosemary, vetivert, and palmarosa are combined to make this divine smelling and powerful oil.
– $28.49

Shut the F**k Up: What it says. When you need to silence gossip, nastiness, slander. Anoint anything the target will come into regular contact with, such as doorhandles, hairbrushes, computer equipment, telephones, or even a mailbox. Works well with sprinkling powder, for foot track magic set out in the area where the target will walk. Agrimony, Knotgrass and herbs are combined with essential oils to make this a very effective tool against nasty neighbors or people who just don't know how to shut up.
– $28.49

Commanding & Compelling: When you need to strongly compel, command, and influence. Can be an anointing oil with gris gris, talismans, amulets, and candle magic. Smells sweet but packs a serious punch. Fresh wisteria blooms, wormwood, mullien, and honeysuckle are combined to make this iron fist within a velvet glove.
– $28.49

Hex Breaker: When someone has made nastiness and laid a trick on you, this will break the hex and send it back to its source in no uncertain terms. Wisteria, nettle, devil's shoestring, lemon verbena, and bergamot make this handy oil.
– $28.49

Skrying: Made especially for skrying sessions with mirrors, crystal or other spheres, etc. Use for anointing candles or as an addition to incense, as well as on pulse points and forehead (a little goes a long way, test first and do not use if you experience a skin reaction). A proprietary blend of herbs and essential oils chosen especially to enhance visions, perception, and the skrying
– $28.49

Boss Fix: Having problems with an overbearing boss or supervisor? Want a harmonious and fair workplace? This is part of the solution. Use as an anointing oil on everything your boss touches, such as door handles, chairs, desk, etc. Can also be used as a protective area around your workspace if the previous areas are inaccessible to you. May be used in conjunction with Boss Fix sachet powder (foot track magic) anywhere your boss congregates or in your work area. Gravel root, sage, cayenne pepper, tobacco, master root, devil's shoestring, black pepper oil, and High John the Conquerer oil are used to make this blend.
– $28.49

Court Help: Have a case in court? Use this in conjunction with other works to promote a fair and just outcome with the jury. Can be used to anoint candles in workings, as an addition to incense, to anoint gris gris or talismans, or on your hands when you handle documents to submit for responses, petitions, or evidence filings/submissions. Galangal, calendula, carnation petals, dill seed, deer's tongue, benzoin, frankincense tears, devils shoestring and High John the Conquerer are blended to create this oil.
– $28.49

Judge of Justice: When you need to positively influence a judge or arbitrator in your favor. Use to anoint gris gris carried in your pocket when you appear, as well as in conjunction with other workings, such as candle magic. Also use on your hands in cases where there will be a single individual ruling, for documents such as motions, petitions, responses, and evidence submission handlings. Use in combination with Van Van oil to enhance your chances of success. Carnation, star anise, cinnamon, and galangal are blended to create this.
– $28.49

XXX Strength Algiers: For luck, success, and positively influencing the outcome in your favor in any situation. Works very quickly but is of short duration. Vanilla, patchouli, cinnamon, wintergreen, red sandalwood, High John the Conquerer, nutmeg, devils shoestring, gold lodestone, and alkanet are used to create this highly effective formula.
– $28.49

Crown of Success: Used to attract success and is suited for almost any outcome for which you desire to turn in your favor, but especially for school, employment, and business purposes. Anoint candles, gris gris, or anything else that is specific to the matter at hand. Essential oils/herbs of orange, cinnamon, geranium, lavender, bergamot, anise, rosemary, High John the Conquerer root and allspice are blended to make this effective oil.
– $28.49

Accio: Attract positive energies, and people, to you with this oil. Jasmine and other herbs, with essential oils, are used to create this wonderful smelling oil.
– $28.49