Description
Magical Regalia – Robes, Crowns, Etc
Robes and regalia used for religious and mystical purposes have been in use since robes and religion have existed. Special clothing, symbolic in its nature, is set aside and deemed sacred to separate it from the world of the mundane. When one's normal clothing is shed and the sacred clothing is donned, usually with prayer and only after ritual bathing, the aspirant is symbolically becoming something more than they were. It is a uniform, marking one as an ambassador between the world of man and the world of spirit. In the Solomonic system (and those that have followed), this uniform often takes elements of its design from the Regalia of Aaron, the High Priest of Israel as well as that of the Orthodox and Catholic clergy.
Crowns
Many grimoires, such as the Key of Solomon the King and the Book of Abramelin include a Crown as part of the ceremonial regalia. While this does symbolize, in part, the magician's king-like spiritual authority, the Solomonic Crown descends more directly from that worn by the High Priest of Israel: a circlet of gold inscribed with the Name of God. It associates the magician's head with God, Divine Wisdom, and the indwelling Shekinah – much the same as halos painted around the heads of saints in religious art.

Abramelin Silk Filet/Crown [$149.95]
The spirit-magick in the Book of Abramelin requires a golden silk filet (or crown), with the three Names of God Adonai, YHVH, and Zabaoth inscribed in metal and attached to the silk. We use a European silk and linen blend for added comfort, stitched to a copper band etched with the Divine Names. Hand-made upon order, ships in two to three weeks.
.
And yes, this Crown can be used for any Solomonic spirit workings.

$149.95Add to cart
Solomonic Parchment and Linen Filet/Crown [starting at $129.95]
The Key of Solomon the King, along with many other Solomonic grimoires, require Crowns worn by both the Master of Ceremonies and any assistants. Different grimoires describe several versions: made of materials from simple paper to pure gold, and including various Divine Names and/or Sigils. Our Solomonic Crowns are inscribed with exorcised Butterfly Blood Ink on consecrated Virgin Calfskin Parchment, and sewn onto consecrated white linen headbands. (The linen ties in the back, so there is never a need to worry if the Crown will fit!)


.
Each Crown is hand-made to your custom order. So make sure you include a note with your order to let us know what your Crown requires:
-Which Divine Names and/or Sigils.
-English or Hebrew characters.
-What color (black or golden Butterfly Blood Ink, or we can paint them any color)
-We can even do gold-leaf! (This will affect the price, so contact us directly.)


$129.95Add to cart
Robes from Azoth Art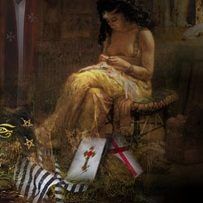 Doc Solomon's is proud to announce the addition of magical robes made by
Azoth Art's
Kathy Ignizio to our catalog! These linen and silk robes will be exclusive to Doc Solomon's.
.
Originally intended for our Abramelin line of products, the linen Robe can be used for any Solomonic or other magical working. (Sorry, they aren't woven from maiden-spun threads.)
.
PLEASE NOTE
: Azoth Art will make your Robe(s) to order – pre-made Robes are not kept in stock. Please be aware there will be a wait for your Robe(s) to be made, and the length of time can vary depending on availability of the required linen or silk. We will be happy to keep you updated on the progress of your order. Thanks.
White Linen Tau-Robe
Both Abramelin and the Solomonic tradition make use of robes in their ritual regalia. Our robes are 100% linen, made in the "Tau Robe" fashion – a floor-length pull-over with expanding-width sleeves.
.
REMEMBER to include a NOTE with your order, giving us your full HEIGHT and CHEST MEASUREMENTS!

$144.95Add to cart

Abramelin Silk Over-Robe (Red)
The spirit-magick in the Book of Abramelin requires a robe of silk worn over the white linen robe. The color can be white (spiritual purity), red (passion and resurrection), or yellow (the solar king). We use 100% dupioni silk, finished with gold-colored trim to represent royalty and perfection. Includes girdle (belt) made from the same silk.

$179.95Add to cart

Abramelin Silk Over-Robe (White)
The spirit-magick in the Book of Abramelin requires a robe of silk worn over the white linen robe. The color can be white (spiritual purity), red (passion and resurrection), or yellow (the solar king). We use 100% dupioni silk, finished with gold-colored trim to represent royalty and perfection. Includes girdle (belt) made from the same silk.

$179.95Add to cart

Abramelin Silk Over-Robe (Yellow)
The spirit-magick in the Book of Abramelin requires a robe of silk worn over the white linen robe. The color can be white (spiritual purity), red (passion and resurrection), or yellow (the solar king). We use 100% dupioni silk, finished with gold-colored trim to represent royalty and perfection. Includes girdle (robe-belt) made from the same silk.

$179.95Add to cart