Description
Skrying Mirrors
Doc Solomon's is proud to announce the addition of Black Skrying Mirrors made by Peristera de Magdalene to our catalog! Skrying – a visionary technique allowing humans to see and interact with spiritual creatures and/or behold visions of the past, present, or future – has a history far older than written records. In the most ancient times, sacred springs and pools were used for the purpose (such as the Oracle of Delphi) – though over the centuries many alternate techniques have been utilized: from pools of ink or sacred oil, to mirrors, and even the most famous skyring tool: the crystal ball. During the past couple of generations, the "Black Mirror" has risen to a position of prominence for many spirit-workers and seers.
Price: $300.00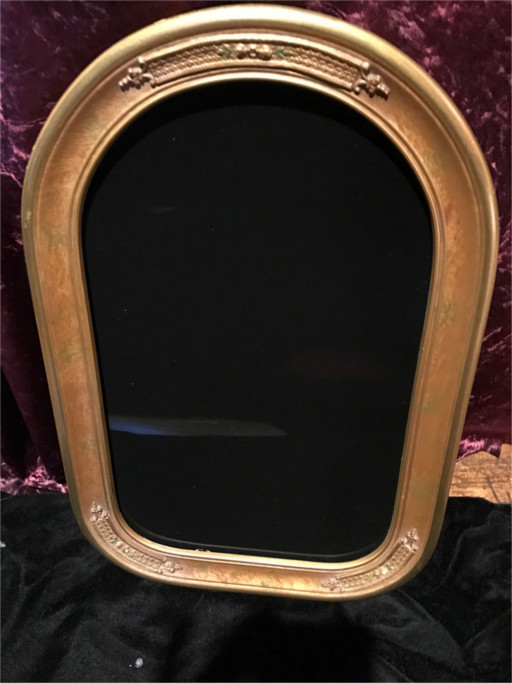 All of Peristera's mirrors are custom order. Due to the individual nature of the product and the coordination with lunar cycles, delivery time can be 1-2 months. Each mirror is unique and starts off with an antique bubble glass picture frame dating from 1910-1950. The frame is then disassembled and cleansed in a clear flowing spring. The glass is prepared with paint and a fluid condenser containing an herbal blend, gold tincture, and essence of moonstone before it is consecrated on the full moon. The frame is then reassembled with the glass in the concave position and a felt backing. Each comes with its own black velvet bag. Because these are antique frames, no two are alike. They are generally arch, oval, or octagon shaped and average in size around 18″ x 12″. In some cases, the frame comes with a photo in it. In these cases, if desired, Peristera will divine whether or not the person pictured is in the spirit world and if so whether or not they would be willing to facilitate clear vision in the mirror. If the spirit is in agreement, ashes of the photo are added to the fluid condenser.
$300.00Add to cart
Contact us to custom order your Black Skrying Mirror today!